We zijn weer on the move! De mannen zijn gisteren vertrokken richting Curaçao. Tot het laatste moment gefietst, propte iedereen hun spullen in de koffers en versgebakken cinnamon swirls in hun mond, om uiteindelijk een half uur later dan gepland te vertrekken richting airport. Thom was geredelijk uitgepoept, dus plotseling waren het míjn vrienden die naar het vliegveld gebracht moesten worden! Haha! Daar trap ik mooi niet in!
Nu we weer in de auto zitten, op naar een nieuwe plek, merk ik dat ik dit gevoel gemist heb! Wat we de afgelopen 5 weken hebben gedaan, was leuk maar bekend terrein. Ik heb wel weer zin in het onbekende!
Gelukkig werken de slides van de camper mee en zijn we rond 11 uur klaar om te vertrekken. Doei Fruita! We zijn wel een beetje uitgepoept van al het bezoek, dus geen lange afstanden vandaag, maar op naar Montrose dat 2 uur verderop ligt. Dit plaatje ligt naast het Black Canyon of the Gunnison National Park waar we een bezoekje aan willen gaan brengen. We checken in bij een KOA (RV Park) in het dorp. Er staat hier bijna geen kip, het seizoen is echt afgelopen. We hebben hier full hook-ups en dat is wel fijn, want de voorspellingen zijn KOUD!
Na een lunchje in het dorp, doen we boodschappen en zijn rond vijf uur weer bij de camper. Allebei eigenlijk best wel moe, crashen we op de bank voor de tv met een bak cornflakes/cruesli. Lekker vroeg onder de wol vanavond!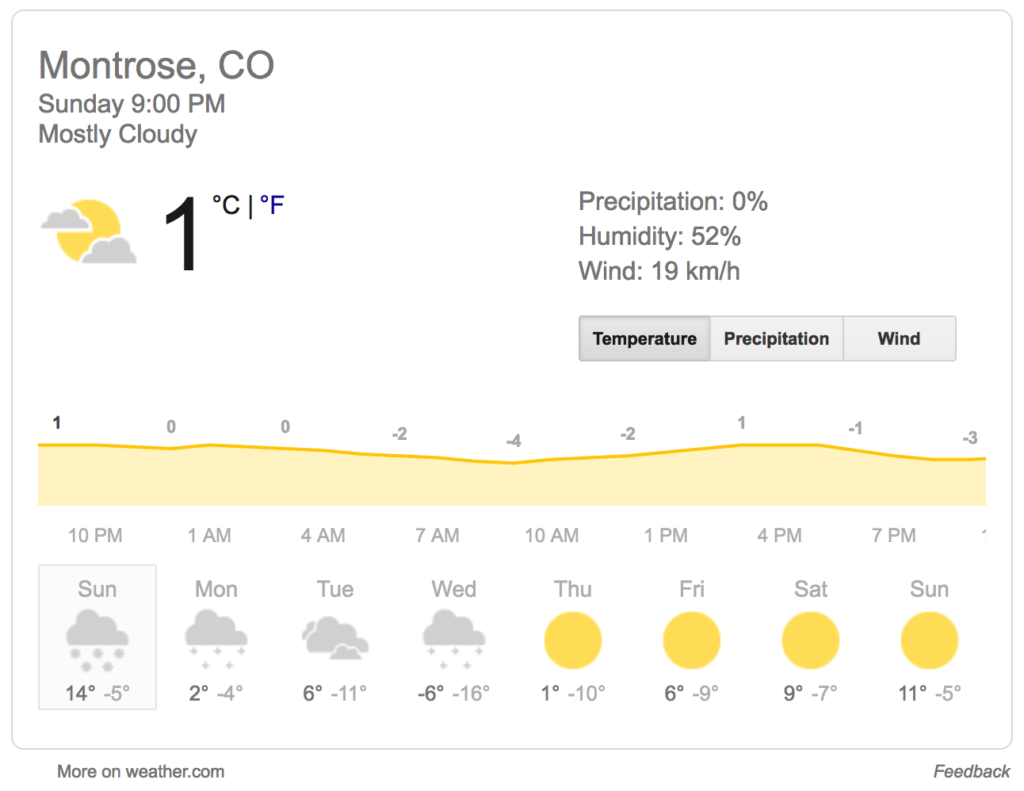 Hmmm Montrose geeft de vibe een 'Make America Great Again' stadje te zijn… Lees vooral even het bord dat in het raam hangt…

Vergane glorie…

Halloween store!
Nieuw soort brievenbus!

Geniale Halloween pruik!