'Do you rent skies?'
'Yes we do, but we close in an hour.'
'When will you open again?'
'Next season!'
'Oh okay…thanks!'
LOL. Het leek ons leuk om vanmiddag de Little Cottonwood Canyon in te rijden om even wat sneeuw op te zoeken. Het had vannacht flink geregend en vanmorgen zagen we dat de sneeuwgrens bijna op ooghoogte lag. Dus toen we de 5th wheel hadden ingecheckt bij het RV Park en wat hadden gegeten, vertrokken we op een mini road tripje. Volgens googlemaps maar een half uur rijden, Bickel achterin, want die is dol op sneeuw. We zaten inderdaad binnen no time tussen de besneeuwde boomtoppen en aan het eind van de canyon was een echt volwaardig skigebied! Liften, pistes, the works. Erg grappig om je daar dan plotseling in te bevinden. We werden wel geinspireerd en gingen informeren bij de ski shop of ze ook ski's verhuurden. Toen hadden we dit korte maar krachtige gesprekje haha. Bleek dat we aan waren gekomen op de laatste dag van het seizoen, in het laatste uur! We kunnen eventueel wel uitwijken naar het dorpje Snowbird iets verderop, zij blijven wel nog even open. Toch gek hoor want er was net een enorm pak sneeuw gevallen en het zag er nog helemaal niet uit alsof dit einde seizoen was! Bickel was helemaal door het dolle, die vindt sneeuw geweldig! We werden nog uitgenodigd door drie dames in felgekleurde poncho's om wat te komen drinken op de parkeerplaats, een 'last drink of the season!' Ze waren al aardig teut lol!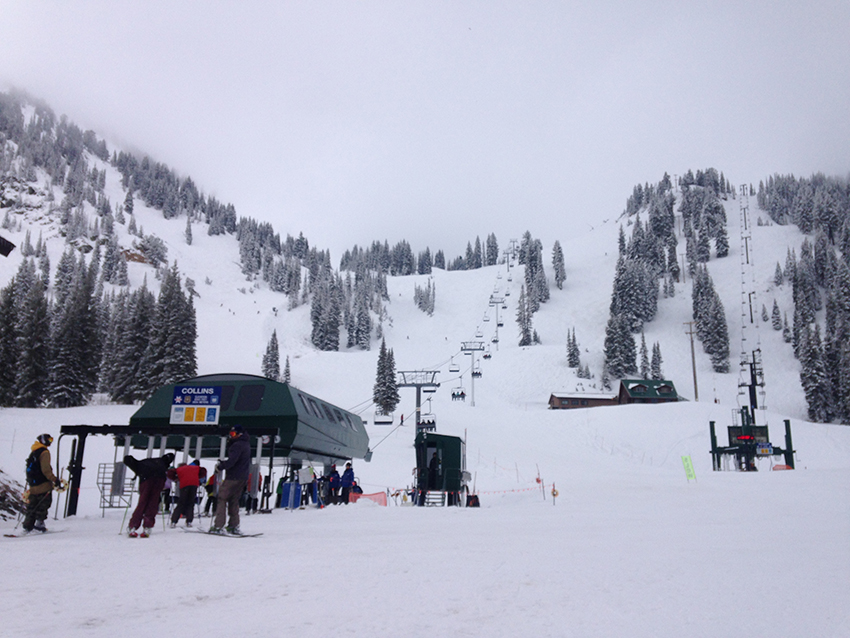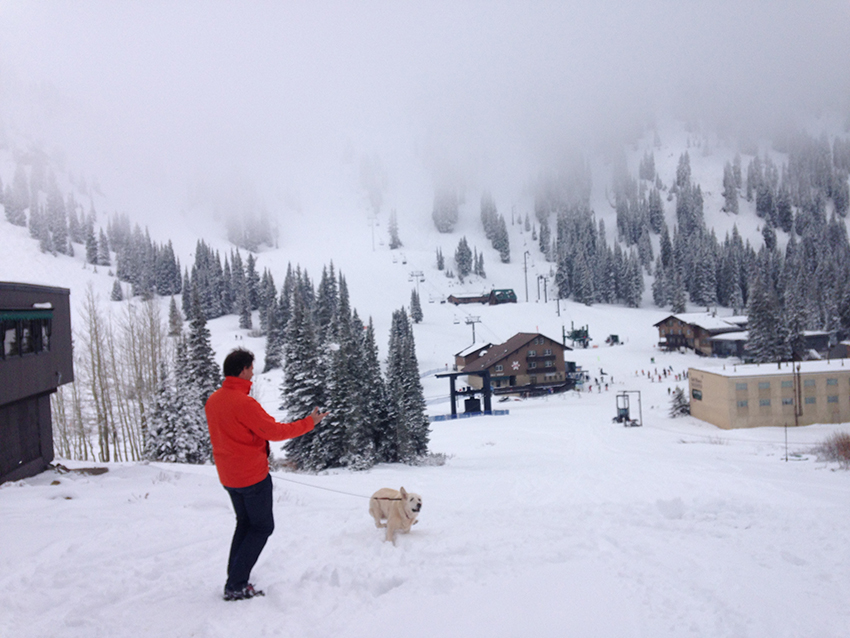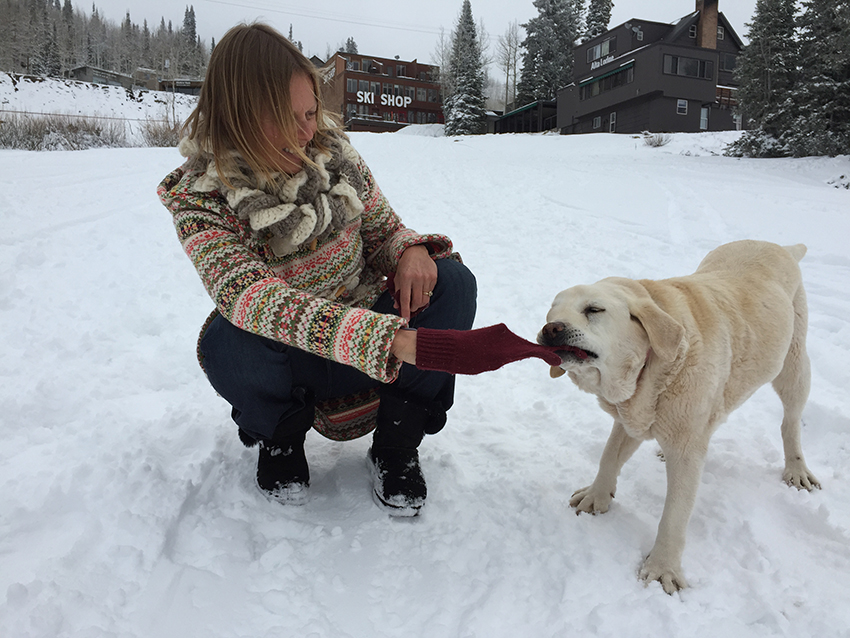 Het gaat op zich goed met haar, ze is heel vrolijk en levendig, maar de bult op haar neus wordt steeds een beetje groter in plaats van kleiner. Een bezoekje aan de dierenarts maar weer, de beste optie die we nu lijken te hebben, is om een bioptie te nemen en te kijken wat daar uit komt. Schijnt een kleine ingreep te zijn, maar toch niet zo leuk voor haar (en ook niet echt voor ons). Maar ja, niks aan te doen, we willen toch graag weten wat het nou is. We proberen ons maar niet te veel zorgen te maken.
Ons plekje hier is prima. We zitten wel vlakbij de snelweg, maar onze camper isoleert goed dus binnen hoor je er niks van en het is ook wel heel praktisch met de ikea aan de overkant van de weg en de campingworld twee deuren verderop. Bovendien ligt hier om de hoek een grappig mountainbike gebiedje, dus wie weet gaan we daar ook nog een kijkje nemen. Mijn arm is nog niet helemaal de oude, maar gaat wel beter, dus ik hoop over een paar dagen weer voorzichtig een rondje te fietsen!