Op zo'n 25 minuten afstand van de camping ligt een erg mooi compact MTB netwerk met zo'n 80 km singletrack en uitzichten over het water en de stad Bellingham. Het is echt een heel bijzondere combinatie van bos en open gebieden met struiken (veel bramen, frambozen en Salalbessen) waardoor er een heel speels fietsgebied ontstaat met mooie uitzichten. Meestal zie je het één of het ander. De trail die we in gedachten hebben, krijgt een hoge score op MTB Project, dé to go website hier in de VS als je op zoek bent naar trails (Trailfork is ook een goede). We zijn benieuwd, vooral of we de route kunnen vinden in een wirwar aan trails en niet al te veel kaartjes of naambordjes onderweg.
De klim omhoog (ja ja was weer een flink klimmetje) is ook over singletrack en soms langs best wel diepe afgronden, waardoor mijn techniek een beetje klungelig wordt. Hetgeen Thom kan irriteren (zo smal is het nou ook weer niet) en dus zaten we even een beetje in elkaars irritatie zone…Ik moét mijn eigen tempo aanhouden anders dan wordt het snel niet leuk, maar nu ging ik waarschijnlijk wat langzamer dan normaal en Thom had zin om door te fietsen… ai! Na er even een paar woorden aan vuil te maken gaat het beter en klimmen we gestaag verder. Voor een deel via een mooie rollercoaster, waardoor je het gevoel hebt dat je minder klimt dan je denkt. Daar hou ik wel van! Uiteindelijk komen we bij 1370 ft aan de top en kunnen we beginnen aan een afdaling van zo'n 3 kilometer. Geweldige trail, vrij technisch maar met mooie flowy bochten en héél veel schansjes, waar je gelukkig ook omheen kon fietsen! Omhoog en omlaag waren mooi in evenwicht! We hebben ook wel eens gehad (In Colorado) dat we een dik uur aan het klimmen waren om vervolgens binnen een kwartier weer beneden te zijn!
Na het fietsen willen we eigenlijk ergens gaan eten, maar wanneer we de parkeerplaats van de supermarkt op rijden (Whole Foods), krijg ik plots enorme honger en besluiten we daar wat te 'scheppen' in hun altijd rijkelijk gevulde food court. Daarna boodschappen gedaan, het is eigenlijk een winkel vol lekkernijen, voor je het weet heb je je karretje vol liggen met verse pasta, taartjes, koekjes, prachtig fruit zoals aardbeien, kersen en perziken, mini cherry tomaatjes, lekkere chipjes enz….ja ja, we blijven de komende dagen lekker veel bewegen om hier een beetje tegenwicht tegen te bieden 😀 Anders dan komen we tonnetje rond weer terug!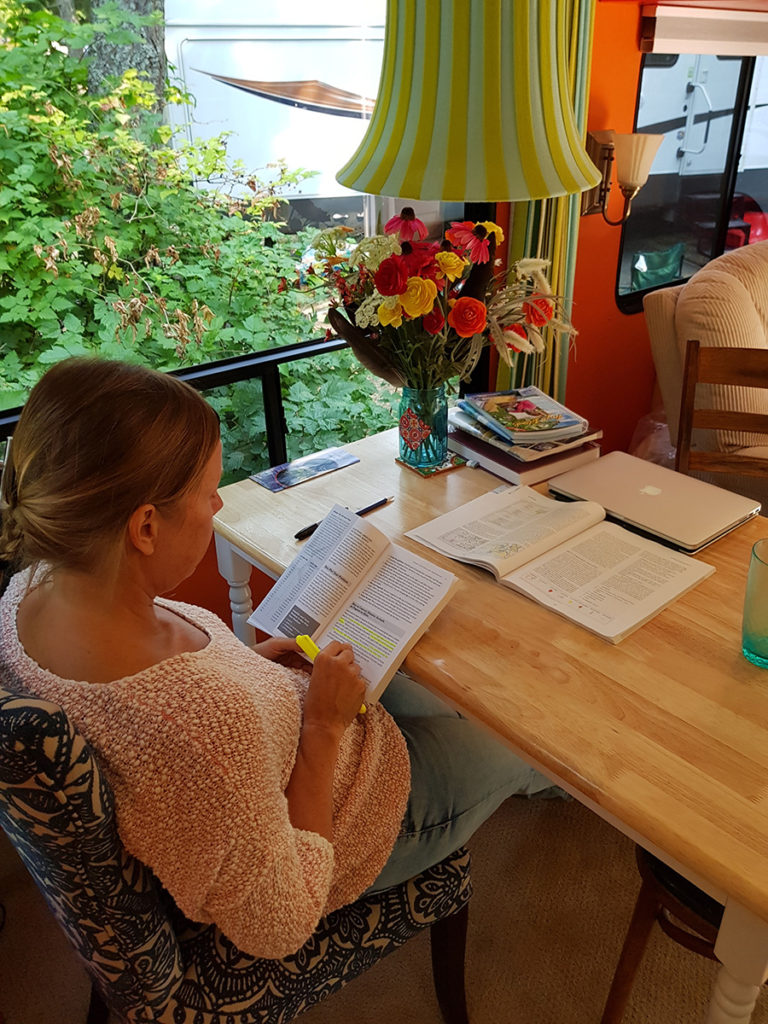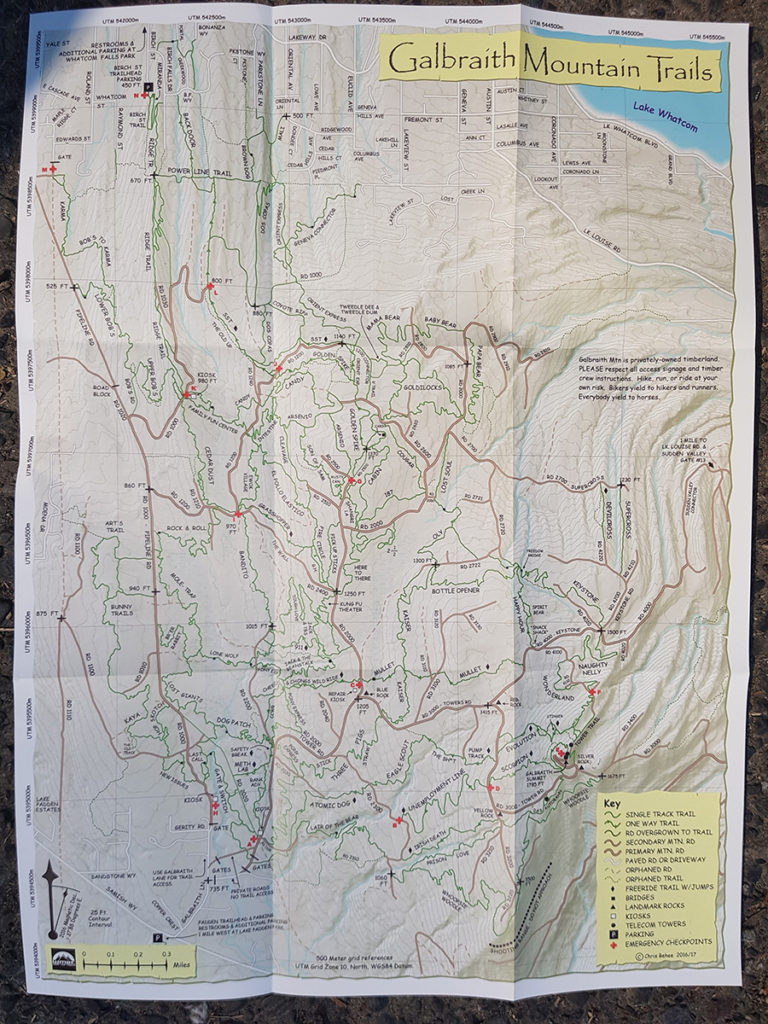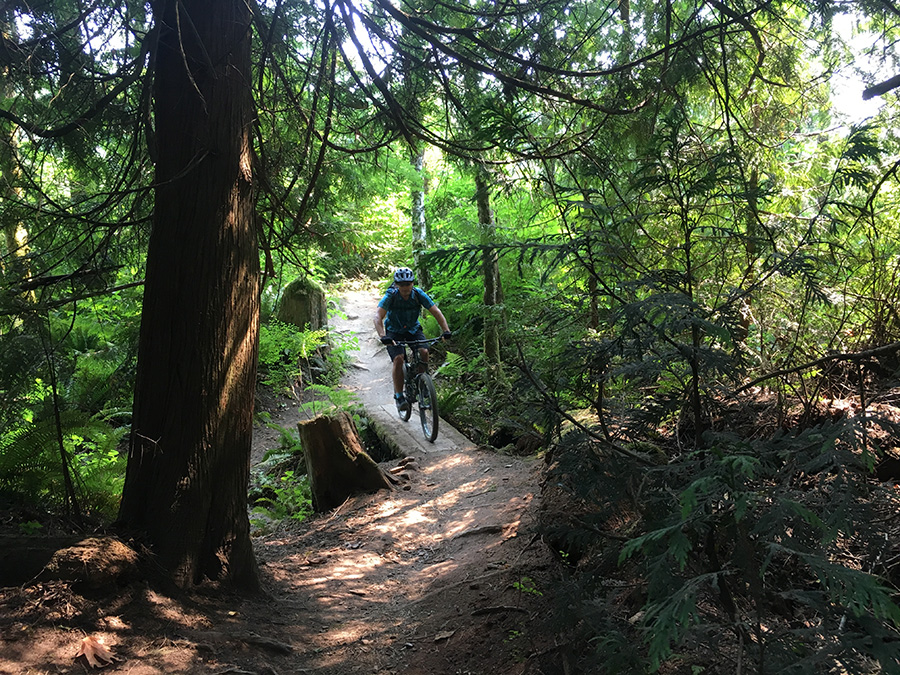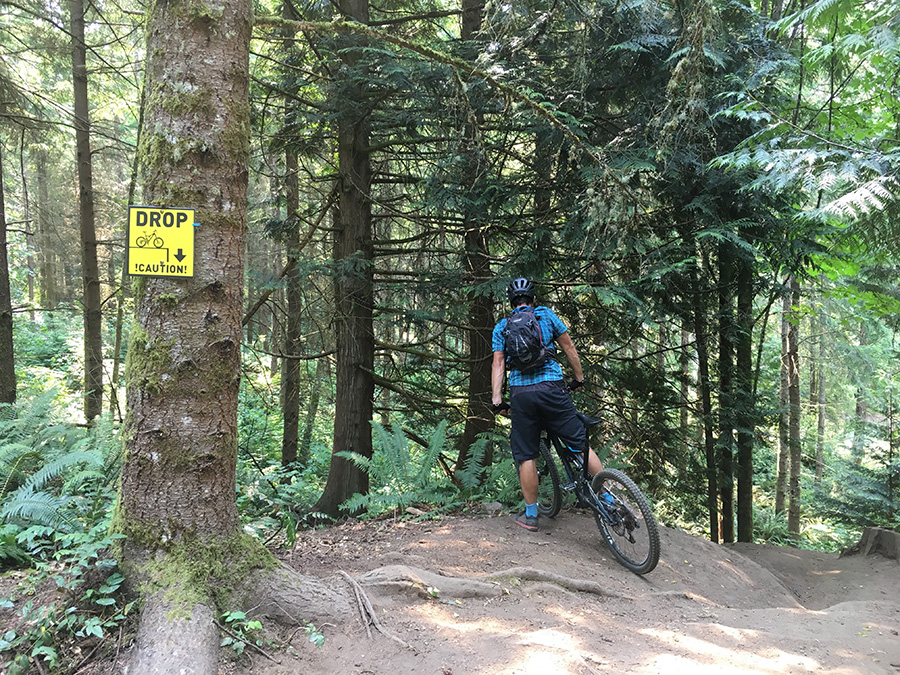 Effe eerst checken 😀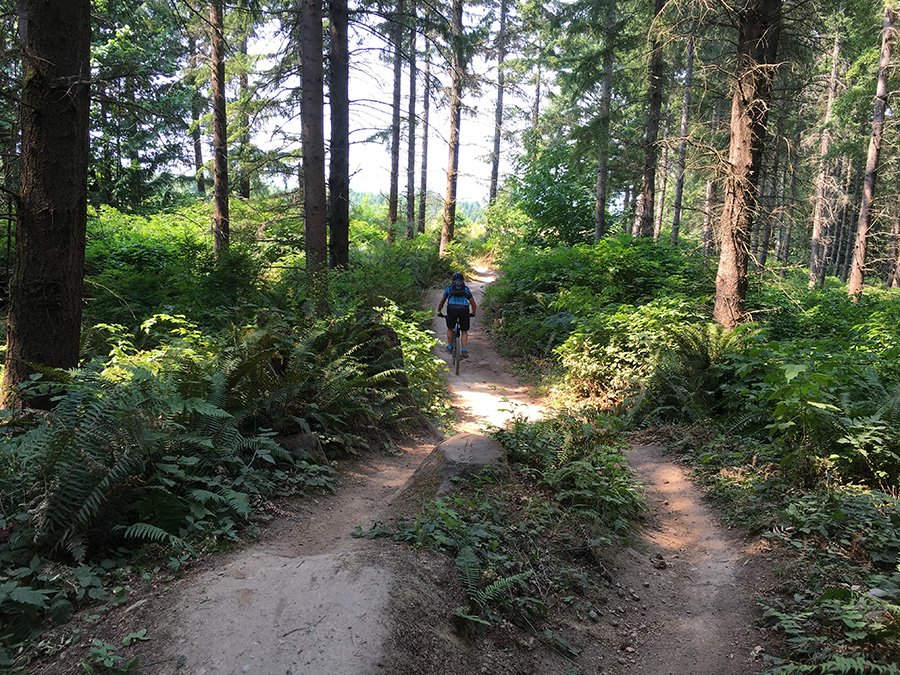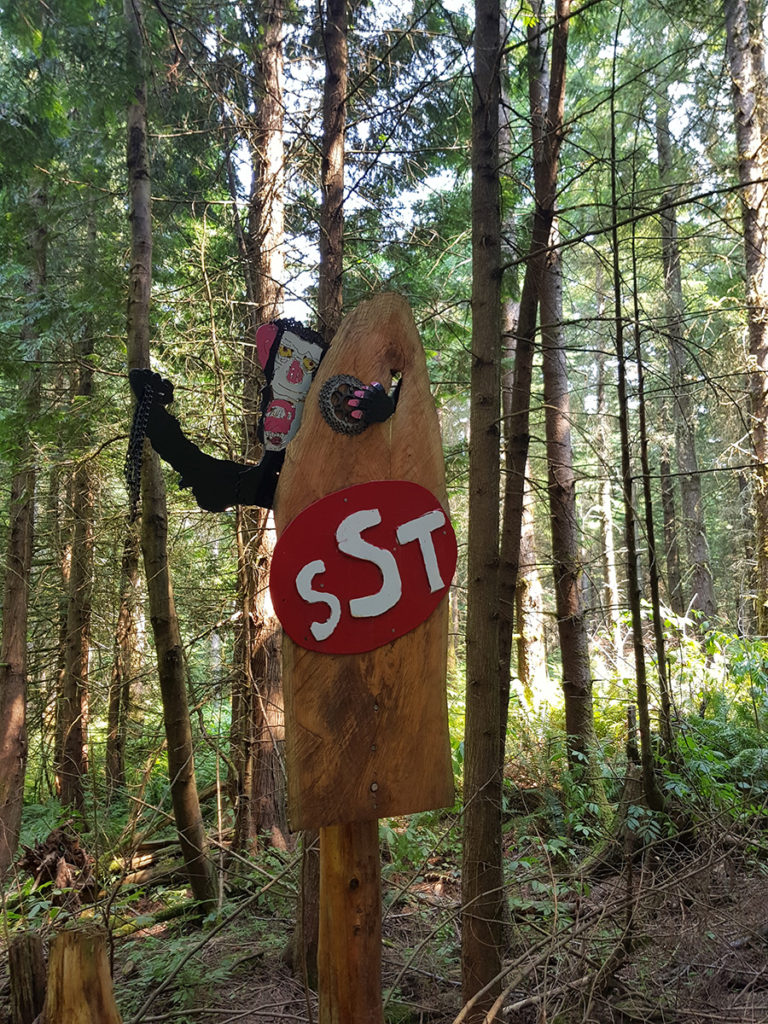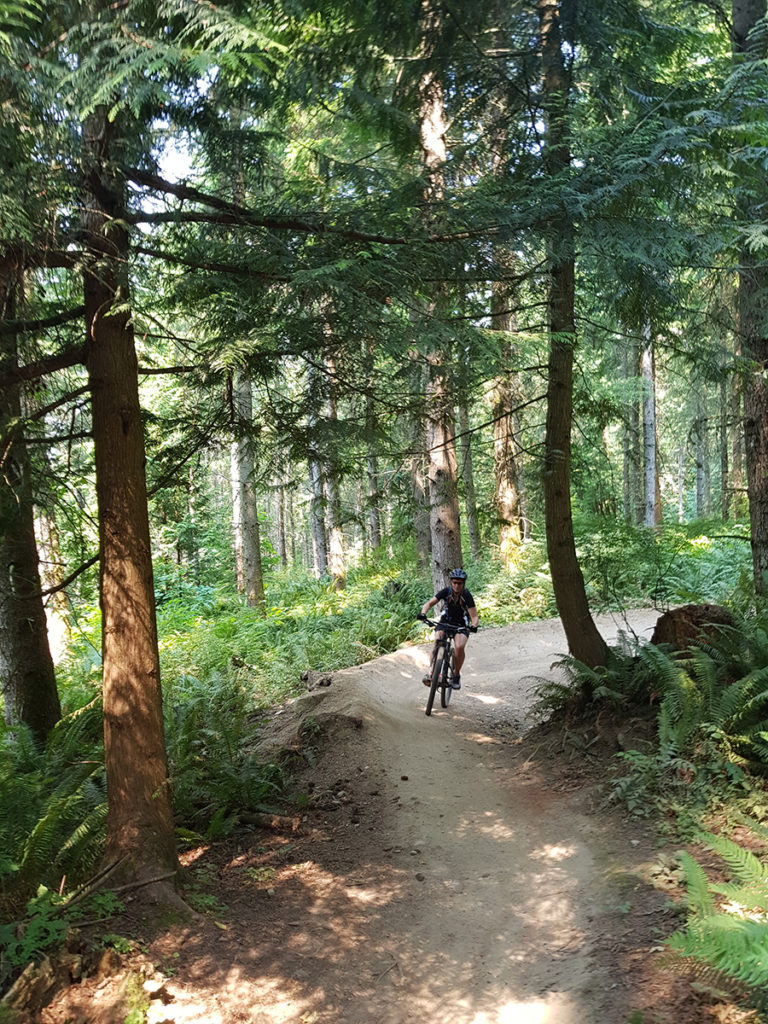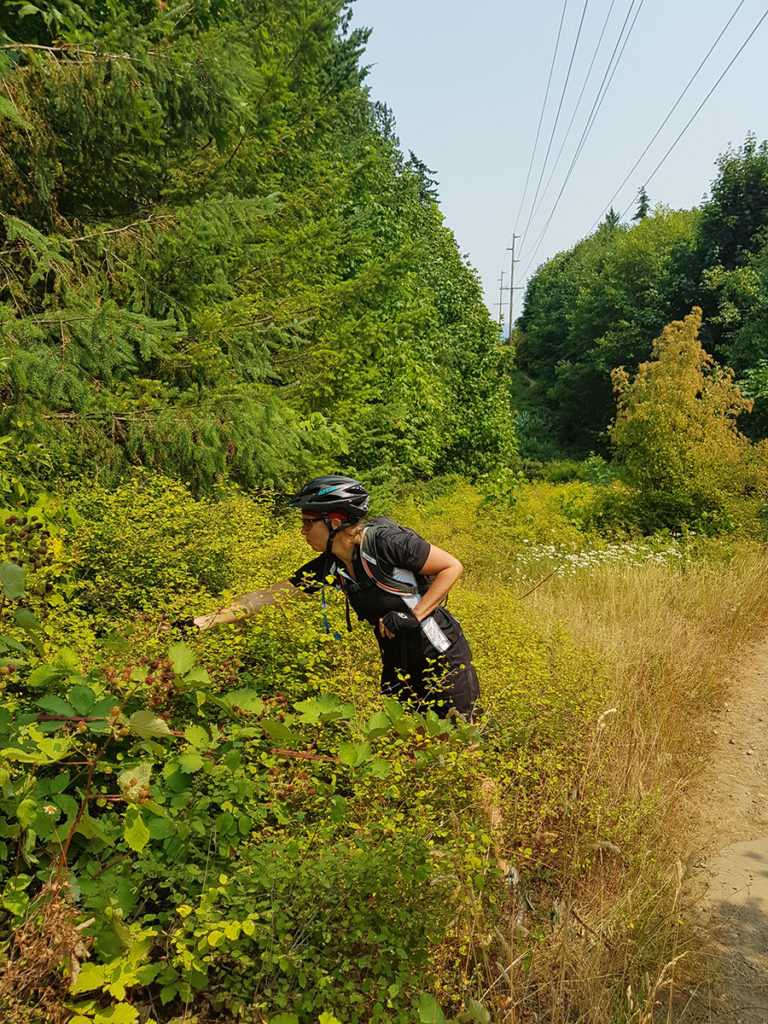 Rijpe bramen!
Eind van de dag nog even aan het strand gezeten, het is echt een prachtig baaitje!